About us
Conscious Planet – Save Soil is a unique global movement, uniting world leaders, visionaries, influencers and 4 billion citizens behind a common purpose – to Save Soil.
Across the globe, soil is dying. The United Nations says the world only has about 60 years of harvests left before cultivable soil becomes desert.
Save Soil is an effort to address this degeneration of soil, by inspiring at least 60% of the world's electorate to support long-term government policies to revitalise soil.
It is supported by the United Nations Convention to Combat Desertification (UNCCD), the United Nations Framework Convention on Climate Change (UNFCCC), the Food and Agriculture Organisation (FAO), the World Food Program (WFP), the World Economic Forum (WEF) and the Commonwealth of Nations. It has also been recognised by the Vatican, the European Parliament and the European Agricultural Commissioner and is supported by global leaders such as renowned conservationist Dr. Jane Goodall, His Holiness the 14th Dalai Lama, music producer will.i.am and Salesforce CEO Marc Benioff.
Ibrahim Thiaw
Executive Secretary UNCCD
"This remarkable and ambitious global movement is instrumental to sensitising the world to the importance of protecting land and soil. I am honoured to support this initiative and UNCCD will happily collaborate."
Dr Jane Goodall
Messenger of Peace, UN
"I request all of you to come together and join the Conscious Planet Movement to Save Soil."
Save Soil was initiated by Sadhguru in March 2022 with a 100 day motorcycle journey from the UK to India, spanning 27 countries and 30,000 km, to activate the support of people and governments for policies to save soil.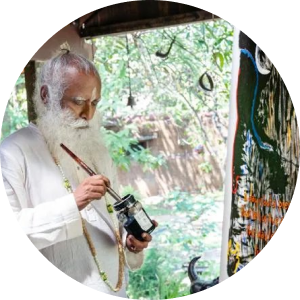 Sadhguru has launched several initiatives over the years, which are powerful examples of bringing together all segments of society to create lasting, sustainable solutions for ecological and social issues. These initiatives have garnered the support of millions of people, as well as governments, global bodies, grassroots organisations and eminent public figures.
In 2017, Sadhguru launched Rally for Rivers to raise awareness about India's dying rivers. Supported by 162 million people, it is the largest ecological movement of its kind. It was also included as part of the UN Climate Action Compendium of Nature-based Solutions. Subsequently, he initiated Cauvery Calling as an action-oriented, on-ground movement to support farmers to plant 242 crore trees to revitalise river Cauvery. The project has helped 125,000 farmers transition to tree-based agriculture and facilitated the planting of 62 million saplings.
"No matter how much wealth, education, and money we have, our children cannot live well unless we restore the soil and water. Conscious Planet, the only way forward." – Sadhguru.